Notice
Dynabook, Inc. and its subsidiaries were deconsolidated from Toshiba Group on October 1, 2018.
They will continue to develop, manufacture, sell, support and service PCs and system solutions products for global markets.
For information on products and services, please see the following site.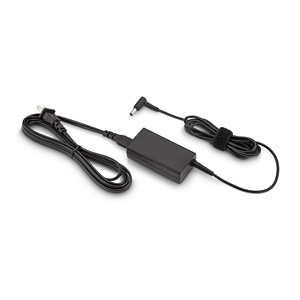 Toshiba 45W Global AC Adapter (4mm tip)
Don't get caught without power when you're on the road! Exclusively for Portége WT20 and Z20t notebook PCs and Chromebook2 (CB30-B/C Series)
Power - PA5192U-1ACA Product Description

PRINT
Overview
A second AC adapter at home and/or at work makes power access convenient and tailored to your needs. Also keep one in your carrying case at all times and never be without an AC adapter when you travel. It enables you to keep your battery fully charged when you really need it most on the road.
The Toshiba Global AC Adapter can be used with select Toshiba Ultrabooks™ and 10-inch Thrive™ Tablet PC Series, Thrive Tablet Multi Docks and Standard Docks. It meets or exceeds the specifications of the AC adapter that shipped with the Ultrabook and Thrive Tablets.
The universal 100/240 power input means you can use the AC Adapter around the world with the appropriate plug adapter for whatever country you are traveling to for business or pleasure.
For full laptop compatibility see our AC Finder
Features:
Can be used around the world with the appropriate plug adapter.
Meets or exceeds the specifications of the AC adapter that ships with your laptop.
Spare adapters make power access convenient at home and/or at work.
Backed by a limited one-year warranty with service and support available from Toshiba
Velcro strap attached to cord for easy cable management
Specifications:
Power:

Input: 100-240V/ 50-60Hz Frequency (Universal)
Output: DC 19V -- 2.37A

CD-IN plug: single barrel (4mm tip)
Dimension & Weight: 3.6"" x 1.6"" x 1.0""; 6 oz (w/o power cord)
AC Power Cable: Two-prong type, 6.5 feet long with Velcro cord management
Environmental: RoHS compatible
In the box: Toshiba Global AC Adapter, US power cord and documentations.
One-year limited warranty
Note: This AC Adapter is the direct replacement for Toshiba 45W Global AC Adapter (Part#PA5072U-1ACA) and 30W Global AC Adapter for 10" Thrive Tablet (Part #: PA3922U-1ARA)
†MSRP: Reseller/Retailer pricing may vary. Toshiba is not liable for pricing errors.